12-Day Golden Triangle + Yangtze Cruise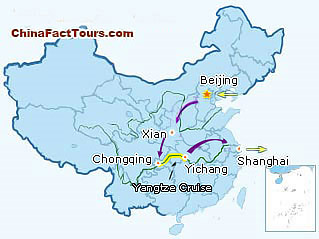 Tour Code: CFT-2011-1001
Tour Name: 12-Day Golden Triangle + Yangtze Cruise
Note: B—Breakfast, L—Lunch, D—Dinner
Destination: Beijing, Xian, Chongqing, Yichang, Shanghai
Departs: Anytime
Tour Highlights
>>Forbidden City
>>Mutianyu Great Wall
>>Terra Cotta Warriors
>>Yuyuan Garden
>>Yangtze Cruise
>>Chinese ghost culture
Dear Vivian:
My husband and I were VERY pleased with our tour of China. Some of the highlights and my observations:
We were met at the airport by May Zhou, who was absolutely delightful in every way. We appreciated the fact that she introduced us to our driver, Mr. Chang. She went into the hotel with us and made sure we were settled before leaving us that first afternoon, which was very helpful. She laid out the plans for the upcoming time in Beijing and also made sure we knew what our options were for dinner that first evening. The itinerary was terrific. Since we were struggling a bit with jet lag, it was great that we spent the first full day in town seeing Tiananmen Square, the Forbidden City and the Temple of Heaven, saving the more strenuous stuff for the next day. We were very glad the Mutianyu Gate was the one selected for our visit--everything I've read says it is the "better" entrance to visit, even though it is further away from Beijing.
The hotel, Citytel, was comfortable and well located. We even had a view of the rooftops of the Forbidden City! All of the meals were good and May made sure we had an opportunity to try a variety of different dishes. Our visit to the hutong was quite charming and Andy, our hutong guide, was very sweet. We also enjoyed our brief visit with a resident of the hutong. It was really eye-opening.
All our tour guides were great, but May was something extra special. She was professional, friendly and very knowledgeable. Not only did she provide us with the facts and figures, but she also filled us with interesting side notes about the things we were seeing and doing. She was simply top notch and we enjoyed her immensely.
Lily met us at Xi'an and also took us into the hotel to make sure we were settled in easily. Our son arrived late that evening, as expected. Lily and the driver picked us up Saturday morning and we headed out to see the Terra Cotta Warriors. She was also very knowledgeable about the history of the site.
Lily suggested a fabulous dumpling restaurant in the heart of Xi'an. My husband and I agree that this dinner was absolutely the very best of our entire time in China -- and we enjoyed all our meals! We were all very glad she had recommended it to us.
I highly recommend that everyone coming into Shanghai for the first time, arrive at night, like we did. The Shanghai city lights were absolutely breathtaking!
We really enjoyed Jimmy's enthusiasm for his lovely city. He seemed proud to show us the sights. Our visit to the Oriental Pearl TV Tower was especially memorable, with its glass viewing floor. We also enjoyed the time we spent in Zhujiajiao and were glad it had been included in the itinerary.
The Jinjiang Inns in both Xi'an and Shanghai were clean, comfortable and conveniently located.
My husband and I were very impressed with all of the arrangements made on our behalf and will be very pleased to recommend you and your travel services to anyone planning a trip to China. We could not have been more pleased and we wish to thank you sincerely for making our first trip to China so memorable.
Thank you again,
Nancy *
Client's Information:
Name: Nancy *
Nationality: USA
Tour Starting Date: early May, 2010
Note: As our clients requested, we customized the itinerary for them based on this 8-day tour package. We incorporated some famous attractions in their tour, such as Hanyangling Tomb (Xi'an) and Zhujiajiao (Shanghai) etc..
Questions & Comments