Urumqi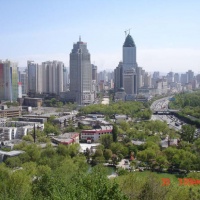 Urumqi, (Urumchi, Wulumuqi乌鲁木齐) is the capital of the Xinjiang Uyghur Autonomous Region of the People's Republic of China, in the northwest of the country. Urumqi means 'A beautiful Pasture land' in ancient Mongolian used by the Junggar tribe. Xinjiang covers 16% of the total land area of China and is Populated by 13 of China's 55 minority nationalities. Of the total population of 11 nationalities, who favor dressing in costumes, have distinct cultural traditions. Other prominent nationalities of this region are ethnic Chinese, Kazaks, and Hui. According to the 2000 census, Ürümqi has 2,081,834 inhabitants with a population density of 174.53 inhabitants/km². Of these, 75.3% are Han Chinese, 12.8% are Uyghurs, 8.0% are Hui and 2.3% are Kazakhs and Kyrgyz.
Location of Ürümqi Prefecture within XinjiangÜrümqi currently comprises 8 administrative sub-divisions, county-level units, of these, 7 are districts and 1 is a county. The areas of the city are divided into 7 districts and 1 county.
History
Two thousand years ago Ürümqi was an important town on the northern route of the Silk Road, a vast network of trade routes that also facilitated cultural exchanges throughout Eurasia. During the 22nd year of Emperor Taizong's reign in the Tang Dynasty, 648 A.D., the Tang government set up the town of Luntai in the ancient town seat of Urabo, 10 kilometers from the southern suburb of present-day Ürümqi. The Ancient Luntai Town was a seat of local government, and collected taxes from the caravans along the northern route of the Silk Road. During the Qing Dynasty (1763 A.D.) Emperor Qianlong named the expanded town of Luntai "Dihua" (pinyin: Díhuà; Manchu: Wen de dahabure fu), meaning "to enlighten." In 1884, Emperor Guang Xu established Xinjiang as a Province, with Di Hua as its capital.
Today
Historically a poor region, Xinjiang has been developed both agriculturally and industrially since 1949. Because rainfall is scarce, many parts of Xinjiang are barren. The main source of irrigation water is the snow and ice at the higher reaches of the Tian Shan range. To harness this supply, rivers have been re-channeled and irrigation canals dug. Xinjiang now has over 400 reservoirs and 30,000 km re-channeled waterways. Thus in Urumq has been a major industrial center within Xinjiang. Now Urumqi together with Karamay and Bayin'gholin account for 64.5% of the total industrial output of Xinjiang. Urumqi is also the largest consumer center in the region, recording ¥41.9 billion retail sales of consumer goods in 2008, an increase of 26% from 2007. The GDP per capita reached US$6,222 in 2008. According to statistics, Urumqi ranked 7th in 2008 by the disposable income for urban residents among cities in Western China. Ürümqi has been a central developmental target for the China Western Development project that the Central Government is pursuing.
Geography and Climate
The largest city in the western half of the People's Republic of China, Ürümqi has won a place in the Guinness Book of Records as the most remote city from any sea in the world at a distance of about 1,400 miles (2500 km) from the nearest coastline (Ürümqi being the city closest to the Eurasian Pole of Inaccessibility). The city has an area of 10,989 km². The average elevation is 800 meters.
In Urumqi a continental steppe climate with hot and dry summers prevails with average temperatures in July at 24°C (75°F) as well as damp and cold winters with average temperatures in January at -16°C (3°F). The annual average temperature amounts to 5.4°C (41.7°F), and the yearly precipitation is about 273 mm.
Because the northern route of the "Silk Road" passed through Urumqi, it became a heavily-guarded fort in the Han Dynasty, and remained so for centuries. But today, the city itself has few historical sites to offer tourists, except for the museum of the autonomous region that houses some valuable relics unearthed along the "Silk Road". An excursion to Tianchi, however, is worthwhile.
A 113-mile journey southeast from Urumqi will take you to the oasis of Turpan, which lies in one of the world's great land depressions, 505 feet below sea level. Known as a "Furnace Town", its summer temperature soars regularly into the 100s Fahrenheit, while the desert rocks are said to reach 170F. But it is well irrigated and produces much fruit such as seedless grapes and Hami melons.
Tianchi, or "Lake of Heaven", is about 30 miles southeast of Urumqi, at an elevation of 6,435 ft. above sea level. It is a beautiful highland lake, flanked by rugged pines and cypresses, and with clear waters that reflect the surrounding mountains. In winter, it provides an ideal alpine skating rink. In fact, China's winter skating games have been held there.
Suggestions & Comments