Xinjiang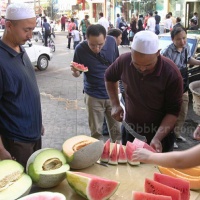 Xinjiang ( Shinjang; Sinkiang; 新疆; Xīnjiāng), an autonomous region (Xinjiang Uyghur Autonomous Region) in Northwest China, is a large sparsely populated (with a population of 15.5 million) area covering 1.6 million square kilometers (larger than the combined area of all the European states from Germany to Spain), which takes up about one sixth of the country's territory.
Xinjiang borders the Tibet Autonomous Region and India's Leh District to the south and Qinghai and Gansu provinces to the southeast, Mongolia to the east, Russia to the north, and Kazakhstan, Kyrgyzstan, Tajikistan, Afghanistan and Pakistan to the west. Xinjiang's territory characterizes by three huge mountains and two enormous basins: the Zhungeer basin between the Tianshan Mountain and the Kunlun Mountain where the vast Takla Makan Desert is found. The rivers are mostly of inland rivers and the Tarim River is the longest. The Tianshan Mountain forms climate demarcation line. It's temperate continental dry or semi-dry climate north of the Mountain while south of it, warm temperate continental dry climate.
The east-west Tien Shan Mountains separate Dzungaria in the north from the Tarim Basin in the south. Dzungaria is dry steppe. The Tarim Basin is desert surrounded by oases. In the east is the Turfan Depression. In the west, the Tien Shan split, forming the Ili River valley.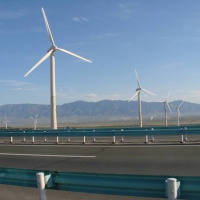 Lakes, grasslands, snow Moutainous forests and gobi desert feature the distinctive natural landscapes in Xingjiang. Old cities, ancient tomb groups, aged relic sites along the silk road show its attractive history and culture. It is also rich in produce such as coal, iron, petroleum, salt, gold, berylliun, lithium, white mica, albite in mineral product and wheat, corn, cotton, silk-cocoons, melon, grape fruit in agriculture. Multitude Chinese ethnic groups always lend minority culture and folk flavor to those who visit Xinjiang. Popular scenic spots and historical sites are Ravin of Jianhu in Urumqi, Heavenly Lake of the Tianshan Mountain, Flaming Mountains of Turpan, The Mosque in Kaxi, ancient city ruins of Lanlo etc.
Suggestions & Comments