Duolun Road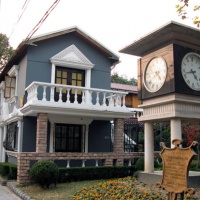 Duolun Road (originally called Darroch Road), a pedestrian street of historical and cultural celebrities, captures the cultural spirit of Shanghai in the 1920s and 1930s. Duolun Road (Duolun Lu) today has become a cultural bazaar composed of old-style lanes, antique market, bookstores, teahouses, former residences and museums of cultural celebrities, and folk museums.
Duolun Lu is located in north of the Sichuanbei Road Trade Area, and south of Lu Xun Park and Hongkou Football Field, with its back to the Inner Ring Viaduct and Jewel Light Track. The length of it is only 550m. The street is both narrow and short, and is also winding and deep and quiet, edged by little buildings of various styles, row upon row. Through in the maps it can hardly be found, it's a major scene in the history of literature of modern times.
Being located in the former American concession area, the former residences which line the Duolun Road are attractive examples of the Chinese and International architectural styles. Today the road is home to a fascinating selection of art and antique shops as well as the more usual souvenirs stalls selling Chinese curios and collectibles. Duolun Road was once a popular haunt of many eminent figures from Shanghai's past. Life size bronze figures of some of the road's former patrons are poised at intervals around the beautifully paved road and add some extra historical perspective.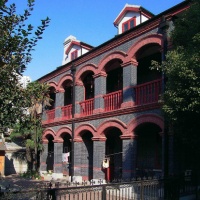 Many famous left-wing writers including LuXun, Qu Qiubai, Guo Moruo and Mao Dun had met here to engage in revolutionary activities in 1930's. The life-like copper statues at street side vividly depict the unique features of the literati and a tour of their former residences helps to learn about their stories in the old days. Duolun Lu is also called "An Outdoor Museum on Shanghai style Architecture" represented by famous Hong De Church and multi-featured residences of Kong XiangXi, Bai ChongXi and Tang Enbo. Besides, People may linger in the halls of collections inducing those of newspapers, porcelain wares, book, currencies, bizarre rocks, chopsticks, jade wares, SuZhou embroidery, etc.
With its archaic sights and elegant cultural atmosphere, Duolun Road has become one of the top tourist attractions in Shanghai. It is considered a must-see in the Shanghai trip.
2010 Shanghai EXPO Tours
4-Day Expo 2010 Shanghai Tour
5-Day Shanghai World Expo 2010 Tour
6-Day Shanghai and Wuzhen Tour
6-Day Expo 2010 Shanghai Huangshan Tour
7-Day China Water Towns and Shanghai Expo Tour
8-Day Shanghai Expo and Suzhou Hangzhou Tour
9-Day Beijng Shanghai Tour
13-Day Beijing Xian Shanghai Tour
14-Day Beijing Tibet Shanghai Tour
14-Day Shanghai Expo Tour
17-Day 2010 China Facts Tour
Suggestions & Comments
For any words about our website, service or else are warmly welcome. Please fill the form below or directly email us to
contact@chinafacttours.com
.